The McKinsey 7-S Framework
The McKinsey 7-S Framework is a diagnostic tool designed to help management effectively organise a company. The premise of the model is that the seven elements provide mutual support and must therefore be aligned.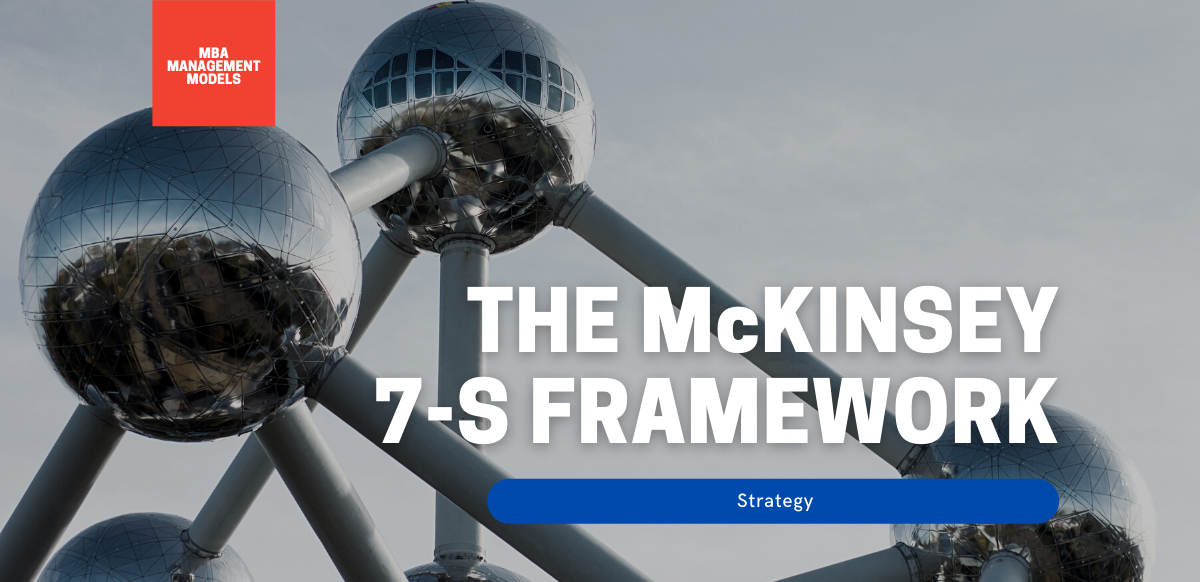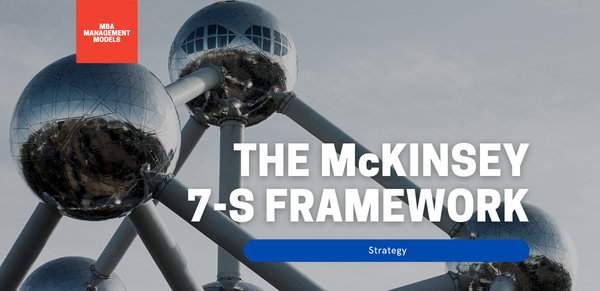 What it is
The 7-S framework is used to define and analyse the essential elements of an organisation. The model views an organisation in a holistic manner, with seven interconnected components.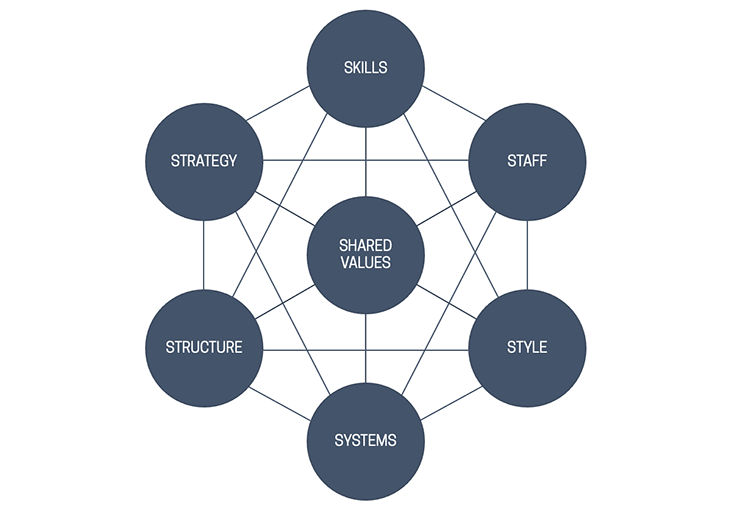 These seven elements are mutually supportive and must therefore be fully aligned for an organisation to be effective.
The seven interdependent S's that form the model are:
Strategy - an organizationally agreed objective and plan to achieve it within the business environment in which the company operates
Structure - the structure of the organisation and the coordination of functions and hierarchies within that structure
Systems - the processes and procedures which enable the company to conduct its business
Style - the dominant styles of management and operation within the organisation
Staff - the people within the organisation that can be deployed and managed effectively
Skills - the capabilities of the workforce and the organisation as a whole
Shared values  - known as superordinate goals in the original paper, these are the goals, aspirations and values commonly held across the organisation
The first three elements - strategy, structure and systems - are referred to as the "hardware" of success, with the remaining four - style, staff, skills and shared values - being the "software".
Background
Until the second half of the twentieth century, thinking around organisational management focussed heavily on structure. As organisations began to grow and complexity increased, it became clear that coordination was becoming a significant problem for many companies.
"Diagnosing and solving organizational problems means looking not merely to structural reorganization for answers but to a framework that includes structure and several related factors." (Waterman et al, 1980)
In response to this, McKinsey consultants Robert H. Waterman Jr. and Tom Peters, working with Harvard Business School professor Tony Athos, developed the 7-S Framework. Since its introduction in the late 1970s, the model has become a vital tool for managers looking to enhance organisational effectiveness.
"Our assertion is that productive organizational change is not simply a matter of structure, although structure is important. It is not so simple as the interaction between strategy and structure, although strategy is critical too. Our claim is that effective organizational change is really the relationship between structure, strategy, systems, style, skills, staff, and something we call superordinate goals." (Waterman et al, 1980)
When to use it
To analyse the relationships between essential elements in an organisation and prioritise improvement plans.
To ensure an organisation is set up correctly to implement a proposed strategic plan successfully.
To examine the likely effects of planned change within an organisation.
To align departments and processes during a merger or acquisition.
How to use it
To use the 7-S Framework effectively, managers should carefully consider each of the interdependencies within the model and its impact on the agreed organisational strategy. A matrix, such as the one below, can be a helpful tool to visualise and track this work: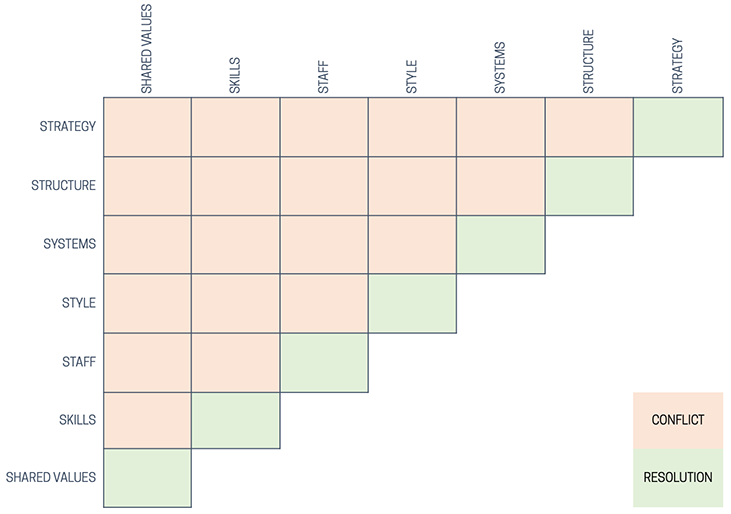 All potential conflicts or issues are noted in this matrix at the intersections (orange boxes), with changes required in each area suggested within the lower (green) boxes in each column. A systematic approach such as this helps to ensure that no connections are missed and to visualise areas where most work is required.
Frequently asked questions (FAQs)
How long does it take to apply the 7-S Framework?
This framework has proved to be highly effective, but to utilise it effectively can require significant effort. Every element and its interaction and effect on every other element must be inspected. All possible issues (risks) and conflicts should be noted, and mitigations and resolutions found. Once this work is done, it should be communicated widely for validation and feedback.
How effective is the 7-S Framework?
If a high level of discipline is applied, it can greatly aid strategy creation, change management, and organisational effectiveness. It is a popular model and widely regarded as one of the most holistic and comprehensive frameworks available for strategic planning.
Further reading
Peters, T. J. (2011) A Brief History of the 7-S ("McKinsey 7-S") Model. New Zealand: Tom Peters. Available from https://tompeters.com/2011/03/a-brief-history-of-the-7-s-mckinsey-7-s-model/ [accessed 17 September 2021].
Singh, A. (2013) A Study of Role of McKinsey's 7S Framework in Achieving Organizational Excellence. Organization Development Journal, 31(3) 39-50.
Waterman, R. H., Peters, T. J., Phillips, J. R. (1980) Structure is not organization. Business Horizons, 23(3) 14-26. Available from https://tompeters.com/docs/Structure_Is_Not_Organization.pdf [accessed 17 September 2021].
---
Some of the links to products provided in this article are affiliate links. This means that the supplier may pay the owner of this website a small amount of money for purchases made via the link. This will have absolutely no impact on the amount you pay.