The Marketing Mix: The 7 Ps
The 7 Ps of the marketing mix (product, price, place, promotion, people, process and physical evidence) provide a helpful checklist to evaluate a product or service by ensuring that the critical areas of a value proposition are considered for the target market.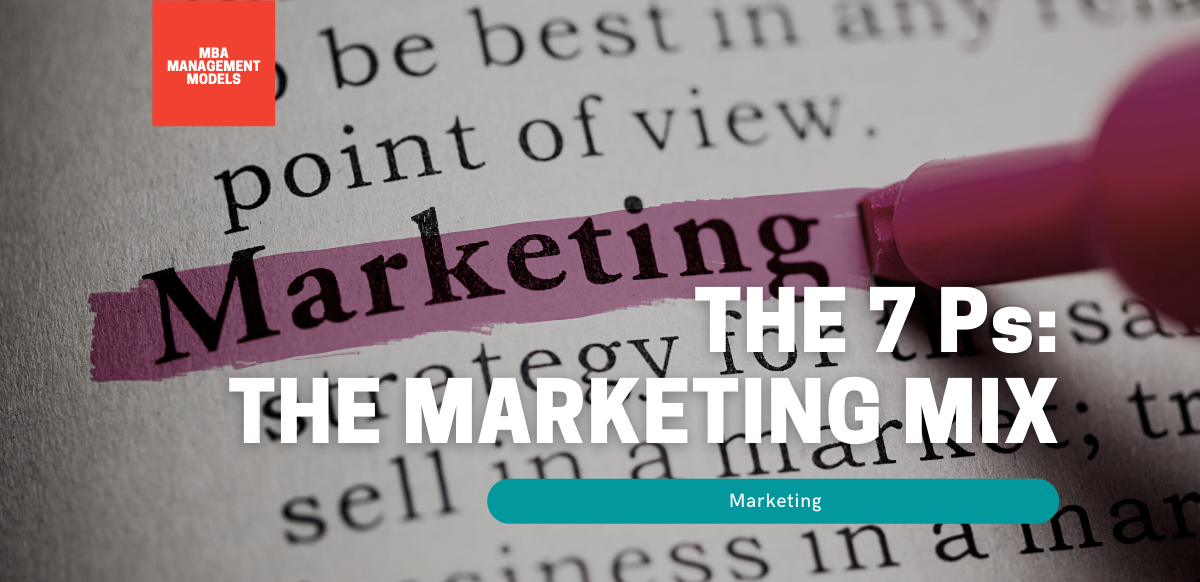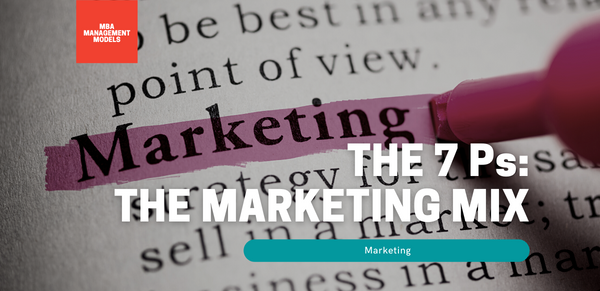 What it is
In modern competitive markets, potential customers have a wealth of options. This abundance of choice means that it is imperative that marketers identify appropriate market segments and provide attractive offerings that meet their needs. Once market segmentation has taken place, and a target is selected, attention must be paid to a wide range of aspects that influence the buying decision of customers.

The marketing mix is a list of considerations to be taken into account when launching a new product or service into a market segment. The 7 Ps are:
Product/service - what product features will users be attracted to?
Price - how much will our target customers be prepared to pay?
Place - where would our target customers go to purchase the product?
Promotion - how will we let our target customers know about the product?
People - how can other people help facilitate the sale?
Process - what processes will be needed to satisfy customer demand?
Physical evidence - how will our target customers experience the product?
All components must be evaluated against the target market and brand positioning to ensure that the offering satisfies the target market.

Background
The concept of the 'marketing mix' originates from a 1964 article by Harvard Business School professor Neil Borden in the Journal of Advertising Research (see Further reading). In his article, Borden stated that:
"Marketing is still an art, and the marketing manager, as head chef, must creatively marshal all his marketing activities to advance the short and long term interests of his firm."
Borden identified the vital role that market segmentation plays in ensuring that all aspects of the product or service directly address the needs of a well-defined and specific target customer group.
In 1964, E. Jerome McCarthy categorised the original 4 Ps of the marketing mix, product/service, price, place and promotion, based on Borden's earlier work.
Given the complexity of modern markets and societal needs, Philip Kotler (see Further reading) added an additional three components, people, process and physical evidence, to create the 7 Ps of the marketing mix that is in common usage today.
When to use it
To evaluate the brand positioning of a new product or service to ensure it meets the target market's needs.
To appraise the current marketing strategy and identify areas for enhancement.
To conduct competitor analysis.
How to use it
Begin by identifying the product or service that you want to examine and then reflect on each of the 7 Ps of the marketing mix for the customer segment being targeted. Ensure that each area is thoroughly inspected, ignoring only elements that are entirely outside your control.
The following sections provide a guide to help you define the questions you need to answer for each of the 7 Ps for your particular scenario by providing examples:
Product/Service
What problem or issue does the product solve for customers within the target market segment?
What makes this product the best solution for people with this problem or issue?
Which product attributes are most important to the target market - quality, price, convenience, brand affiliation?
How is your product different to your competitors?
How does your product negate the unique selling points of competitors?
Why would customers choose a competitors product/service over yours?
What features of the product will be most attractive to customers?
What about the packaging will help to attract customers?
What range of colours and sizes will you offer?
How will you deal with warranties, services, repairs and returns?
Price
What is the value of the product or service to a potential customer within the target market segment?
What would customers in your target segment be prepared to pay for the product?
How price-sensitive are the customers within your target market?
How does your pricing compare to competitors?
Are subscriptions, memberships or extended warranties appropriate?
What is your pricing strategy for repairs, maintenance and servicing?
Will you offer discounted prices at launch or at any other time? What about for existing customer upgrades, bulk purchases or trade customers?
Will you provide credit terms or other customer finance options?
How will you deal with elapsed subscriptions or failed payments?
Place
Where would your target customers usually go to purchase the product?
What distribution channels will you target - online, retail, wholesale?
How are your competitors distributing their products?
Do you have appropriate supply networks in place?
Promotion
Where are customers within your target market segment most likely to see or hear your promotional messages - websites, social media, magazines, direct mail, billboards, television, radio, podcasts, email?
What are the main messaging points and tone-of-voice for marketing?
What advertising, direct marketing and in-store activities will be required?
How can you leverage digital marketing - online events, social media, pay-per-click advertising, sponsorship?
How can you inspire word-of-mouth and other forms of free advertising? Can you utilise social media to accomplish this?
When is the best time to promote the product? Is there any seasonality in the market?
People
How will customers interact with sales and customer service team members?
How can you provide a range of ways for customers to speak with staff members at their own convenience?
What training will be required by sales and customer service teams?
How can you encourage customer referrals?
How will you manage online reviews and other forms of feedback?
How will you deal with service failure?
What touch-points will you set up with customers during the sales process and lifetime of your product or service?
Process
How can you ensure an efficient and reliable delivery experience for the customer?
How will the delivery experience match up with your brand reputation and corporate social responsibility?
What processes will you need to put in place to provide excellent customer service for the lifetime of the product?
How will you deal with spikes in demand?
Are self-service technologies appropriate?
How will you manage service variability?
How will you manage complaints, returns and refunds?
Physical evidence
How will you manage the sensory experience for the customer - touch, taste, smell, sound and sight - in-store, online and through other media?
What retail point-of-sale assets will be required?
How will the packaging complement your existing branded products?
Do you have sufficient and appropriate digital marketing assets available?
Frequently asked questions (FAQs)
What should I do if I don't know all the information required for each of the 7 Ps of the marketing mix?
Although tempting, avoid basing your answers on untested assumptions. Keep strictly to verified facts and seek out that information if it is not currently available to you.
Can I compare with competitors in different market segments?
When comparing your product with the competition, be sure to consider not only the type of product but also the market segment that they are targeting. The optimal marketing and distribution channels can vary significantly for even slight variations in the target market. This is particularly true for segments where age or relative wealth is a factor.
How often should the marketing mix be reviewed?
Review the marketing mix regularly to account for changes in your product or service and those of your competitors and for changing market conditions. Triggers for a review of your marketing mix may include:
a new competitor or product entering the market
a change to an existing competitor product
in response to new marketing campaigns by competitors
the introduction of a new product, or a significant change to an existing product, by your company
if 12-months have passed since the last review
Further reading
Borden, N. H. (1964) The Concept of the Marketing Mix. Journal of Advertising Research. Cambridge, UK: Cambridge University Press. Available from https://motamem.org/wp-content/uploads/2019/07/Borden-1984_The-concept-of-marketing-mix.pdf [accessed 30 August 2021].
Kotler, P., Keller, K. L., Brady, M., Goodman, M. and Hansen, T. (2019) Marketing Management, 4th European edition. Harlow, UK: Pearson Education.
McCarthy, E. J. (1964) Basic Marketing: A managerial approach. Homewood, IL: Irwin.
---
Some of the links to products provided in this article are affiliate links. This means that the supplier may pay the owner of this website a small amount of money for purchases made via the link. This will have absolutely no impact on the amount you pay.